Congratulations to Jensie Anderson, Public Service Award Winner!
We are pleased to announce that RMIC's Legal Director and Past President, Jensie L. Anderson is one of the Honorees of Utah Philanthropy Day on November 19, 2019. She will be recognized with the Lt. Governor's Public Service Award. Ms. Anderson served as RMIC President from 2001-2011 and is currently our Legal Director. She litigates innocence and wrongful conviction claims throughout Utah, Wyoming, and Nevada. 
She also serves as director of the Innocence Clinic and administrative supervisor of the Criminal Clinic (both prosecutor and defender) at the S.J. Quinney College of Law at The University of Utah. Professor Anderson teaches legal methods, innocence investigation and post-conviction process, criminal process, lawyering skills, and introduction to law. Please help us in congratulating her for this great honor.
---
RMIC Attends Criminal Justice Reform Panel Presentation Featuring Van Jones, Mike Farrell, and Kirk Bloodsworth
It is a priority for the Rocky Mountain Innocence Center's staff and volunteers to engage in community events. On January 7, 2017 we attended a panel presentation titled "Van Jones Talks Criminal Justice Reform: with Mike Farrell and Kirk Bloodsworth." We were pleasantly surprised when Van Jones asked the audience if they knew who was doing Innocence/Criminal Justice Reform work in Utah.  This allowed our staff a perfect opportunity to share our contact information and to talk a bit about our work. Remember, we are the ONLY organization in the region providing innocence investigation and litigation services- and we provide these legal services at no cost to our clients!
Our managing attorney, Jennifer Springer, was recognized by Mr. Jones and received a well-deserved rousing round of applause from the entire audience for her relentless work on innocence projects. Congratulations, Jennifer! 
Jennifer and Jensie Anderson (our Legal Director) met with Mr. Jones after the event and we were lucky to snap this picture of the three of them: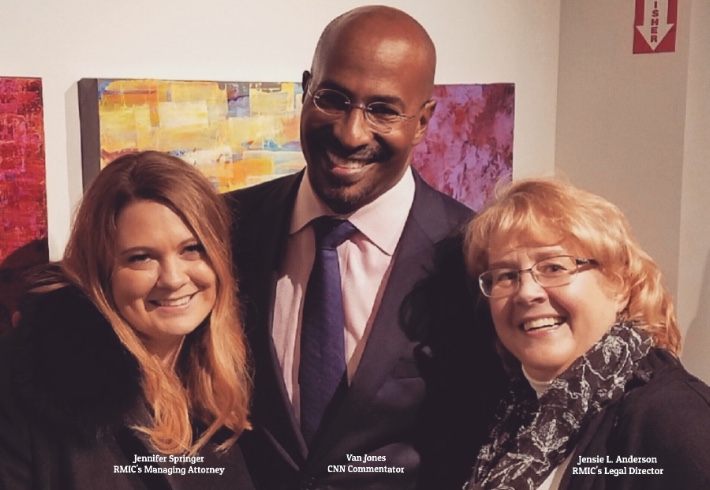 ---
Kirk Bloodsworth, a former Marine who had become a waterman on the Eastern Shore of Maryland, was the first person to be sentenced to death and then subsequently exonerated through DNA. He was 22-years-old at the time of his wrongful conviction and served nine years in prison before he was released.
"If it could happen to me, it could happen to anybody," Bloodsworth has said many times. Shortly after his exoneration, Bloodsworth began avidly fighting for others who had been wrongly convicted. He first was an active volunteer speaker at events and is now a professional advocate. -The Innocence Project
---
Van Jones is a CNN political commentator, regularly appearing across the network's programming and special political coverage. In 2014, Jones launched two brand new initiatives. #cut50 is a bipartisan communications campaign to cut the prison population in half in 10 years -- by forging unlikely alliances, popularizing alternatives to incarceration, and turning the moral and economic catastrophe of mass incarceration into a mainstream, voting issue. #YesWeCode, a national initiative of DreamCorps Unlimited, aims to train 100,000 low-opportunity youth to become high-level computer programmers. -CNN